My interview with Villo Horvath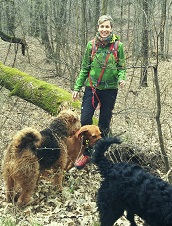 About a year and a half ago Villő Horvath joined EU Office as the head of one of our departments, and very recently she also took over a similar role within another department. It was time we had a little chat with her, not only about her career path so far and her views on mystery shopping, but also about her plan and her hobbies. Hello Villő! [spacer height="20px"]
What has been your career path so far, and how did you first get to know about BARE International?
My very first workplace was Avis Leasing, the 'sister company' of Avis. This company is specialized in long-term car lease. To be honest it wasn't too exciting, so I decided to look for something more interesting, and that is how I ended up in the media business. A good friend of mine just launched a brand new television channel in Hungary, a thematic channel for home & garden and asked if I would like to join the team. Well, it sounded much better, so I joined. I ended up spending almost 8 years in the TV business. First I was in charge of some marketing tasks, merchandising, then I got involved into the sales part and at the end I found myself leading the sales department for 23 television channels in total (significant acquisitions took place over the course of the years).
When I left the media field once again I decided to go for something very different, actually something very new. This is how I came across Bare International. The first thing I liked in the job description was the number of languages the candidate was supposed to speak (on a high level if possible :) ). I was wondering what kind of business requires so many languages at the same time? And then I read… 'mystery shopping'. To be honest, I had no idea what this was… I had to Google it first! I also found some nice videos on YouTube.
As I liked what I saw, I decided to apply for the position. The rest of the story is well-known to all of you, and I've been here since the summer of 2015, perfectly happy to work with such a brilliant team.[spacer height="20px"]
What was your dream job?
My dream job? Honestly? It has nothing to do with my present job. :)
I always dreamed of working in an elderly home, taking care of old people and making their daily life easier and to bring some fun into their lives. I like the company of old people, it's nice to spend time with them; they really do have a lot to teach us, long and fascinating stories to tell. I even dreamed of founding an elderly home based on the Japanese model. They fuse elderly homes with kindergarten. Old people actively assist in the kindergarten activities, so they have a meaningful purpose to wake up for. The kids on the other hand learn to respect old people from the very beginning. I am a big fan of this concept.[spacer height="20px"]
You have been the Data Quality team leader for one and a half year now. What are your best memories about the team and the job?
Oh I have many nice memories. The first weeks for example, when I was continuously thinking there must be something missing here, it's impossible that there isn't anything bad in this company. The atmosphere in general was very different to what I was used to, I remember how surprised I was by this experience.
Then came my first trip to Antwerp Office, all you guys over there, you were all so welcoming and kind. All my fears and worries dissolved within no more than just a few minutes.
Another occasion I would like to mention here is our barbecue party at Feri's place last year, that's a really nice memory. We had a lot of fun (as always), Feri with his jokes, and his fantastic wife Mai, who made sure that none of us left their place hungry.[spacer height="20px"]
How does the work and the office atmosphere inspire you?
What inspires me most at Bare is definitely the colleagues. I see a very ambitious team around me. Everyone is pro-active and willing to work, creative and open for any new initiative. The support you offer to each other is also exemplary, in my eyes. Does someone need any extra training? No problem. Someone is overloaded and needs extra help? No problem. I have to tell you I had very different experiences as a leader so far. This makes my life so much easier. :)[spacer height="20px"]
How do you feel about becoming the head of two departments now? What do you think will be the main differences/challenges when also spearheading the resource team?
I was very surprised when I was offered this new opportunity over lunch, as it is a quick and unexpected change, and I definitely did not see it coming. I quickly understood I had a lot to learn and would need more background knowledge as there were many gaps that needed to be filled, but then I thought, "Let's take this challenge!" It was a lot to take in during the first week but after that it improved and now I'm very enthusiastic. I quickly understood I could be very creative with this new function and already have some ideas I am planning to share with my new team.
One of my favourite parts is people management. It's great to get to know these people, but the main challenge is to find the structure of the department and to further align it to the company's structure, to aim for smoother communications. We're talking about 28 colleagues here, and it is a very different structure indeed.
What is also quite challenging is the evaluator motivation. How do we motivate people who are not in close contact with us but who constantly work with us? We depend on these people for the success of our goals, so we need to find them, motivate them, and maintain high quality of their work… We have to reach the level of being their partners, instead of merely spamming their mailbox. That is why it would be interesting to get a marketing manager in order to have reach a much stronger connection with the evaluator.
When leading the two departments I will be more in the background and more in contact with the team leaders and less with the rest of the team, but I hope to make time to talk with everyone directly as often as I can.[spacer height="20px"]
What is for you the most important aspect about our industry? What does mystery shopping mean for you?
The Evaluators are the most important aspect, the unique connection between the BARE employees and the evaluators, and mystery shopping is the best tool at the moment to measure a company's quality of the service, for any service really. Right now in the 21st century there is nothing that is distributed by just one company, there are hundreds of thousands of distributors. Their main difference is the price, then the quality. Why would you buy a certain product?
We talk a lot about competitors' prices and about discounts, but it is almost equally important how you offer a service. When you go and buy a car or jewellery, it's a whole experience and it has to be to the highest standard, as you will be using the product for many years so it's crucial to have a very positive experience in that store or dealership.
Just to give you an example of my life, I live outside of Budapest and drive to the office every morning. There are many petrol stations, and I stopped at one about 10 years ago and it was such a bad experience, such a bad service, with a very unfriendly cashier. The result? I haven't been there ever since. There are six other petrol stations, and I go to any of them, except this one. In those other six petrol stations they're always friendly. It's as simple as that.[spacer height="20px"]
In your free time what do you like to do the most?
I love dogs, horses and hiking in the mountains. The dogs are like my kids, they are really part of my family.
My passion is trees, forests, mountains. The most peaceful vacation I can imagine is to go hiking, in the middle of nowhere, in the Alps if possible, and sleep in a cabin deep in the forest. That's heaven on earth for me.
Finally, I love to be with friends and to dance, especially with the BARE ladies. I always enjoy their company whenever we go out, whether in Antwerp or in Budapest.[spacer height="20px"]
Thank you very much, Villo!
---
Author: Gert


Gert' specialties are any coffee-related projects as well as reports in Dutch, French and English. In his free time he writes novels, plays and poems, and performs spoken word all over Flanders and the Netherlands. He also loves travelling, listening to music and going to concerts. He has a Master in Applied Linguistics and one in Modern Literature.
---
Interested in becoming an Evaluator with BARE International?
[maxbutton id="20″]
Want to be a guest blogger for BARE's Mystery Evaluator's Community?
Apply to: akocsis@bareinternational.com
https://www.bareinternational.eu/wp-content/uploads/sites/6/2017/05/villo-1.jpg
226
172
onimod
https://www.bareinternational.eu/wp-content/uploads/sites/6/2022/07/BARE-Logo-WP-2022.png
onimod
2017-04-13 11:48:13
2017-05-06 03:32:08
My interview with Villo Horvath