Make Stressmas Christmas again!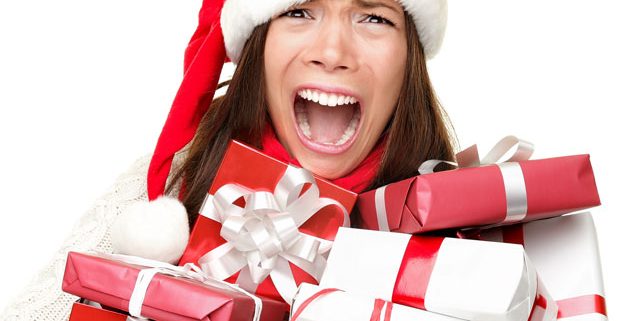 It's that time of the year again when we can stuff ourselves with food without feeling ashamed, drink that amazing Glühwein at the local Christmas market, make a snowman (if weather allows), decorate that tree and go Christmas shopping for gifts for your beloved one's.
As fun as it sounds or is supposed to be, this period is not as great for everyone, and some might even prefer to call it "Stressmas" rather than "Christmas". Stress in the kitchen when the turkey is burnt (again), anger when your tipsy uncle asks you once more why you don't have a boyfriend/girlfriend yet, waiting in queues in overly busy supermarkets and stores, complete ignorance over what gift to buy for your friends and family…
In order to avoid the end-of-year rush and madness, perhaps we can consider some alternatives
1. Start your shopping early in the year. When you come across something you consider really nice for that particular person, just buy it there at the spot, even if it's only March. You will be thankful later in the year that's at least one less gift to buy. This might also allow to buy products at a discount, which will rarely be the case in December!
2. Try to convince your family to draw names so you have to buy only 1 gift, instead of having to buy something for each and every one of them. This also will allow you to focus on searching 1 really nice gift for that one person, rather than buying random stuff for all.
3. Stick to the budget… or more importantly: it's not the more expensive the gift, the happier the receiver will be. Try to be original! If you'd still like some extra cash or get reimbursed for some gifts, you can of course always consider to do some mystery evaluations too!
4. Go against mainstream consumerism: give fair trade or second hand items, consider creating a gift yourself (like knitting a scarf, baking chocolate chip cookies or making a photo album) or even donate to charity in the name of a loved one! After all, Christmas is all about spending quality time with your loved ones and we should be grateful for what we have.
5. Just order in or get it catered! I'm sure your family and friends will not judge you on your cooking abilities, but will appreciate the hospitality and coziness.
6. It's always easier said than done, but the Christmas season is a good time to start thinking about helping other people. This can be providing food or toys for families who need them, participate in one of the Christmas charity programs (use google and you will be surprised by the possibilities in your own area) or simply pay a visit to that old lady in your street…
7. Also for New Year's Eve you can consider staying at home rather than going out to a fancy place where entrance tickets are expensive, you have to queue for forty minutes to go the toilet and ordering drinks at the bar is a nightmare! Host a private party, make it a BYOA affair (Bring Your Own Appetizer/Alcohol) and why not have a winter barbecue this year? You can also ask your guests to write down predictions for the New Year, and during dinner you can take turns reading predictions and guessing who wrote them – which might be truly hilarious as you'll be surprised how difficult it is to guess which person they were coming from!
Let's forget about words like "obligation" and "comparison", and enjoy this period of the year.
Happy holidays everyone!
---
Author: Annelore
Annelore has been an employee of Bare International since September 2011 and is based in the Antwerp Office. She has a Master's degree in English & Spanish literature & linguistics and a Master's in Management. She likes discovering new places, travelling, reading and going out with friends to enjoy some very good (Belgian) beers.
---
Interested in becoming an Evaluator with BARE International?
[maxbutton id="9″]
Want to be a guest blogger for BARE's Mystery Evaluator's Community?
Apply to: akocsis@bareinternational.com
https://www.bareinternational.eu/wp-content/uploads/sites/6/2016/12/woman-stressed-christmas-shopping.jpg
457
640
onimod
https://www.bareinternational.eu/wp-content/uploads/sites/6/2022/07/BARE-Logo-WP-2022.png
onimod
2016-12-29 10:16:06
2016-12-29 10:16:06
Make Stressmas Christmas again!