Bare Shares How Customer Experience Can Drive A Referral Strategy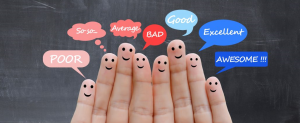 As we've previously shared in a BARE Fact – "70% of buying experiences are based on how the customer feels they are being treated."  (McKinsey). But do you really know how the customer rates their experience? Will they be one of the happy customers that tell nine people about their experience, or the unhappy customer that tells 16 (nearly two times more) people about their poor experience?

Here BARE International shares an article by Mark Nicholson for Customer Think – How Customer Experience Can Drive A Referral Strategy…
'The customer experience can drive business success more than many presume. Over half of companies now consider customer service a differentiator, and the new competitive advantage. It isn't easily replicated, helps differentiate a company, along with other benefits, including word of mouth and referrals.
"70% of buying experiences are based on how the customer feels they are being treated."
– McKinsey
While you strive to exceed expectations with customers, it can be what you do next that further drive growth. Only about a third of businesses request reviews, yet 7 in 10 customers indicate they would provide one if asked. Why the disconnect? Many business owners either cite fear of negative reviews, don't want to encourage negative opinion, or state they don't have the time or tools.
"80% of companies say they deliver 'superior' customer service; however, only 8% of people think these same companies deliver 'superior' customer service."
– Bain & Co.
If you ensure a superior customer experience, you contribute to reputation management. By doing so, you're in a better position to request online reviews with positive sentiment. It's a cycle where the customer experience not only pays returns with loyalty, but also referrals, word of mouth and sales. Much like a positive review, the negative ones are also earned.
We tend to look for validation in some decisions, and it's no different when it comes to a purchase. These signals can help with the confidence in our decisions, and online reviews are now trusted by 88% of consumers as much as personal recommendations. As Dr. Robert Cialdini, author of the best-selling book Influence has suggested, social proof is one of the main critical elements to create influence and trust in the minds of others.
In one study by Harvard, it was found that the Yelp effect has significant influence on restaurants, where each ratings star that's added on a Yelp review often translates to anywhere from a 5 percent to 9 percent effect on revenues.
Online Reviews can have enormous influence, with some sites like TripAdvisor having an impact on the tourist industry of entire countries. These reviews are usually for hotels, restaurants, and other attractions. According to Laurel Greatrix, Director, Global Communications at TripAdvisor, users post nearly 300 reviews per minute. That's over 400,000 per day, or about 155 million reviews per year.
In another study (Conversation Index – Bazaarvoice) where the variety ranged from from CPG to hardware to apparel, it was found that adding a single review to a product page can provide a 10% lift in orders, and to go from 0 reviews to 30 reviews can provide a 25% lift in sales. Furthermore, product page visitors that interact with review content also demonstrated an increase of 58% in conversion rate, along with 62% more revenue per visit.
Whether it's more art than science isn't clear, but there are a few things that help when it comes to getting more reviews, once you have optimized your customer experience. Timing is important, so you want to request shortly after a sale. The longer you leave it, the colder the opportunity becomes. Realizing people are busy and a few follow up reminders can be necessary also helps. But it comes down to earning it, requesting, and sometimes requesting again.
It might be consumers feel obligated when asked for a review. Cialdini often cites the rule of reciprocity, where people sometimes feel indebted to return a favor. Psychology aside, give a little and get a little in return.
An interesting example is the story of Ramon, where a personal connection, combined with storytelling and customer experience created a strong desire to comply with a request. The customer experience and personal connections can create reciprocity in unparalleled ways.
Online reviews have a number of benefits, from helping consumers on the fence about doing business with you, to improving your local search results. Marketing opportunities aren't limited to paid channels, with many of them being in control of businesses and directly contributing to overall growth and sales.
Over 80% trust online reviews as much as personal recommendations, and many say it helps them to trust a business more. With nearly 9 in 10 consumers of the opinion that reviews are worth reading, businesses only stand to improve their bottom line when utilizing this strategy.
If you copy others, you run the risk of being so generic you're almost irrelevant. But when you differentiate your business on specifics that are valued, you begin to build equity. While difficult to measure, its customer experience and reviews, when properly managed and paired, that create enormous opportunities for businesses.
When you start to connect the dots, it brings the importance of customer experience to a whole new level.'
Read the full article here.
---
Why Choose BARE?
Your business challenges are unique. Our proven success across industry categories stems from asking the right questions to help you address the challenges you face everyday. Each solution we offer is customized to meet your needs, providing actionable feedback to help you make critical business decisions. We treat you the way you want to treat your own customers, providing a dedicated project team to give you the attention you deserve and an infrastructure spanning the globe to provide the resources you need to understand your customers' experiences.
Customized Research Solutions
Immediate, Actionable Feedback
Dedicated Project Team
Family-Owned, Global Capabilities
Take advantage of our 30+ years of customer experience research contact us today for a complimentary evaluation of your business.
https://www.bareinternational.eu/wp-content/uploads/sites/6/2023/05/BARE-ISO-Badge-2023-1.png
0
0
Julianna Nagy
https://www.bareinternational.eu/wp-content/uploads/sites/6/2023/05/BARE-ISO-Badge-2023-1.png
Julianna Nagy
2018-01-23 10:12:43
2019-06-27 23:55:41
Bare Shares How Customer Experience Can Drive A Referral Strategy